Plant related products
We provide various parts used in plants in various industries.
It is possible to offer products that conform to the standards and regulations of the world.
Differential pressure flow meter
Differential pressure type flowmeters are technologies that compensate for important roles in various fields of industry, electric power, oil, chemical, environment and energy.
Various standards exist worldwide in the technology to measure liquid and gas. We have adequate experience and skills in overseas standards and standards, and we respond to customers' diverse needs.
It is possible to conduct actual flow rate tests at the National Institute of Advanced Industrial Science and Technology (AIST) and in the US and Korea overseas (with many experiences).
Advantech Differential Pressure Flowmeter manufactures using a consistently more efficient method from engineers with extensive experience for many years to designing, calculating and manufacturing.
(Differential pressure type flowmeter is a product that uses flow dynamics to measure the flow rate by the difference between 1 next pressure and 2 order pressure)
Product family
Orifice flange · Orifice plate · Orifice block · Orifice ring · Flow nozzle · Venturi tube · Condensation pot · Vitotube
Orifice meter run

Orifice ring
Assembly

Orifice block

Orifice flange
Assembly

Flow nozzle

Throat tap
Flow nozzle

Pitot tube

Condensation pot

Orifice plate
Features of Advantech differential pressure flowmeter
1.

There are abundant technologies for difficult production techniques such as inner diameter processing, roughness, finishing accuracy etc. of differential pressure type flowmeter.

2.

Calculation standard of differential pressure type flowmeters worldwide can be calculated by our proprietary program.

3.

ASME PTC-0.25 Flow Nozzle Vibe ASS'Y design and actual flow rate test of ± 6%, which requires the highest measurement accuracy among differential pressure type flowmeters.

4.

Compatible with all laws and regulations such as domestic electricity business law, high pressure gas etc.
Regulatory compliance throughout the world is possible.
ASME Sec.IX
(ASME Boiler & Pressure Vessel)
ASME B31.3 (Procxess Piping)
ASME B31.1 (Power Piping)
IBR (Indian Boiler Regulation 1950)
CE Marking
KESCO
Product Information・More Information Click here for more information..
Prefabricated piping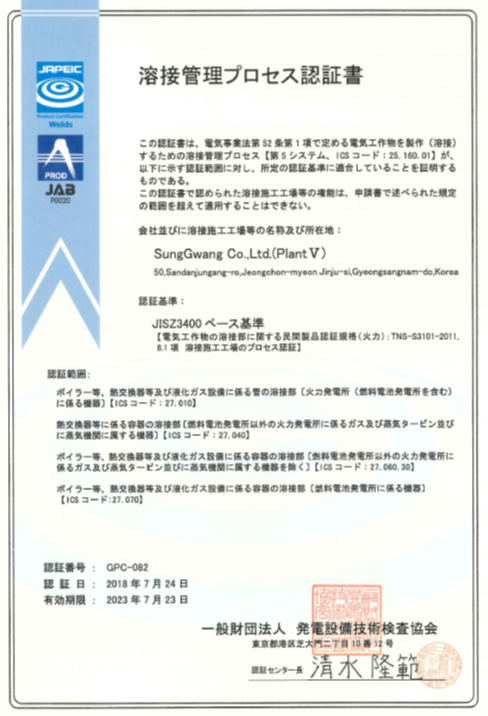 We handle prefabricated piping for various plants.
Corresponding to various regulations such as Electricity Business Law, ASME standard, high pressure gas,
We offer to domestic and overseas.
We acquired the welding process certification of the Electricity Business Law at the overseas plant for the first time in the world.
A wide range of proposals are also possible for power plants in Japan.
Prefabricated piping (Electricity Business Law permitted)
Other product
Pressure vessel

Various can items
Heat exchanger

Various processed products
About products,
please feel free to contact us.
COPYRIGHT (c) ADVANTEC. ALL RIGHTS RESERVED.