Vapor deposition material
Optical in our thin film, display-related deposition, etc., suitable for a variety of applications, and offers a vapor deposition material, the deposition source.
Without Japan, making full use of a wide range of network, multi-product, providing high-quality products, such as product development tailored to the customer's specifications, flexible we will correspond.
Vacuum deposition material
Pellet type materials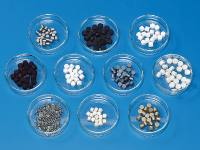 Pellets of various shapes that are easy to handle are prepared, and those suitable for your hearth liner can be selected. We also cover high thermal shock resistant materials that can withstand strong energy such as electron guns.
Granular materials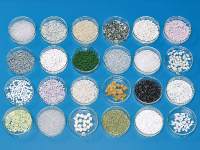 It is possible to use vapor deposition to make materials suitable for deposition. In addition, certain degassed products suppress gas emission from vapor deposition materials to a low level, and this adversely affects the strength and durability of thin films.
Others (functional thin film material)
Evaporation material for producing an organic thin film having water repellency and antifouling property and the like, a special function other than optical properties. For forming a coating film by the vacuum deposition differs from the coating process using a conventional solvent, it is possible to perform the water-repellent-stain processed sequentially from the antireflection film-forming.
Boat for resistance heating vapor deposition
【Product example】
Length
35~195mm (usually 100mm)
Width
6.0~30mm
Thickness
0.1~0.5mm
depth
1.5~2.0mm
Press section
40~50mm
Material
W, Mo, Ta other
※ The normal press part is flat type but V shape is also available.
※ special shape also please contact us.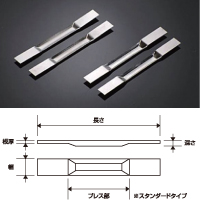 BN-TiB ceramic boat
【Ceramic Boat Specification】
| | |
| --- | --- |
| Resistance | 300 - 4000 μΩ · cm |
| density | 2.8 ~ 3.2 g / cm3 |
| Eur-lex.europa.eu eur-lex.europa.eu | ≦ 1895 ° C |
| Thermal conductivity | > 100 / 40W / mK |
| Thermal expansion coefficient (20 - 1450 ℃) | (4 - 6) 10 - 6k |
| Flexural strength | > 150mpa |
| Packing state | vacuum pack |
【Resistance value (μΩ · cm)】
Type 1
800 - 1200
Type 2
1200 - 1600
Type 3
1600 – 2000
Type 4
2000 – 2400
Type 5
2400 – 2800
Type 6
2800 – 3200
Type 7
3200 – 3600
Type 8
3600 - 4000
※ Please specify the external dimensions, cavity size, depth, desired resistance value.
※ The shape of the hearth liner can also be processed.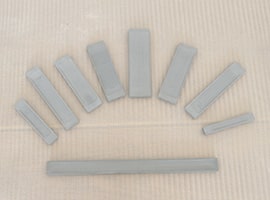 It is suitable for vapor deposition of Al or for depositing low melting point materials such as Au and Zn.
It is a ceramic composite evaporation source used for continuous vapor deposition for film packaging film and film capacitor (capacitor).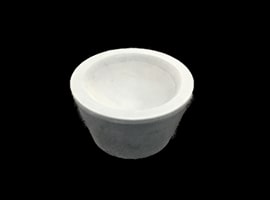 Resistance heating vapor deposition filament
【Product example】
Wire diameter
0.5~1.0mm
Shape
Straight type / helical coil type / basket type
Material
W, Mo, Ta other
※ Alumina coating specifications are also available
※ Please consult other ordered items.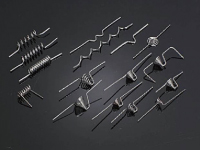 EB vapor deposition for consumable parts
【EB filament】
Wire diameter
φ0.55, φ0.65, φ0.80
Material
W
※ other shape, please contact us.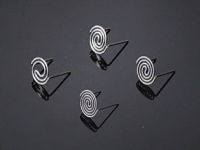 【Hearth liner】
Material
Cu, W, Mo, Ta other
※ We see the right figure, shape, please specify, such as size.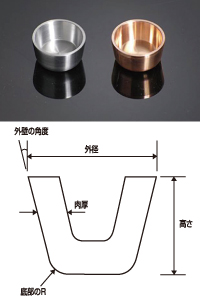 About products,
please feel free to contact us.
COPYRIGHT (c) ADVANTEC. ALL RIGHTS RESERVED.