Vacuum · Process gas pipe
And welded products
Vacuum pipe
Vacuum technology is applied in a wide range of fields such as semiconductors, liquid crystal, electronic parts, energy and space development, and it is an indispensable technology especially in the cutting edge science and technology fields.
We support all standards from NW to ICF.
We will correspond to your desired size from Φ10mm to Φ1000 mm or more.
Process gas pipe
In the precision equipment mainly for semiconductor manufacturing equipment, high cleanliness is required for the supply side process gas pipe whose quality depends on it.
At our company, by integrally manufacturing in a dedicated clean room, we will provide products with controlled particle, metal and ion.
Advantech's integrated pipe production
Our Features
1.

It is possible to manufacture consistently at our factory from processing to welding to surface treatment

2.

We offer in a high-quality, short delivery times and low prices.

3.

This cost can be down at the time of mass production by taking advantage of the overseas bases.

4.

In addition to pipe manufacturing, canning and assembling are also performed.

5.

We perform thorough quality control with 3 dimension measuring instruments.
Orders
Production control
Primary processing
Welding

Finish and surface treatment
Inspection
Shipping and delivery
AD coating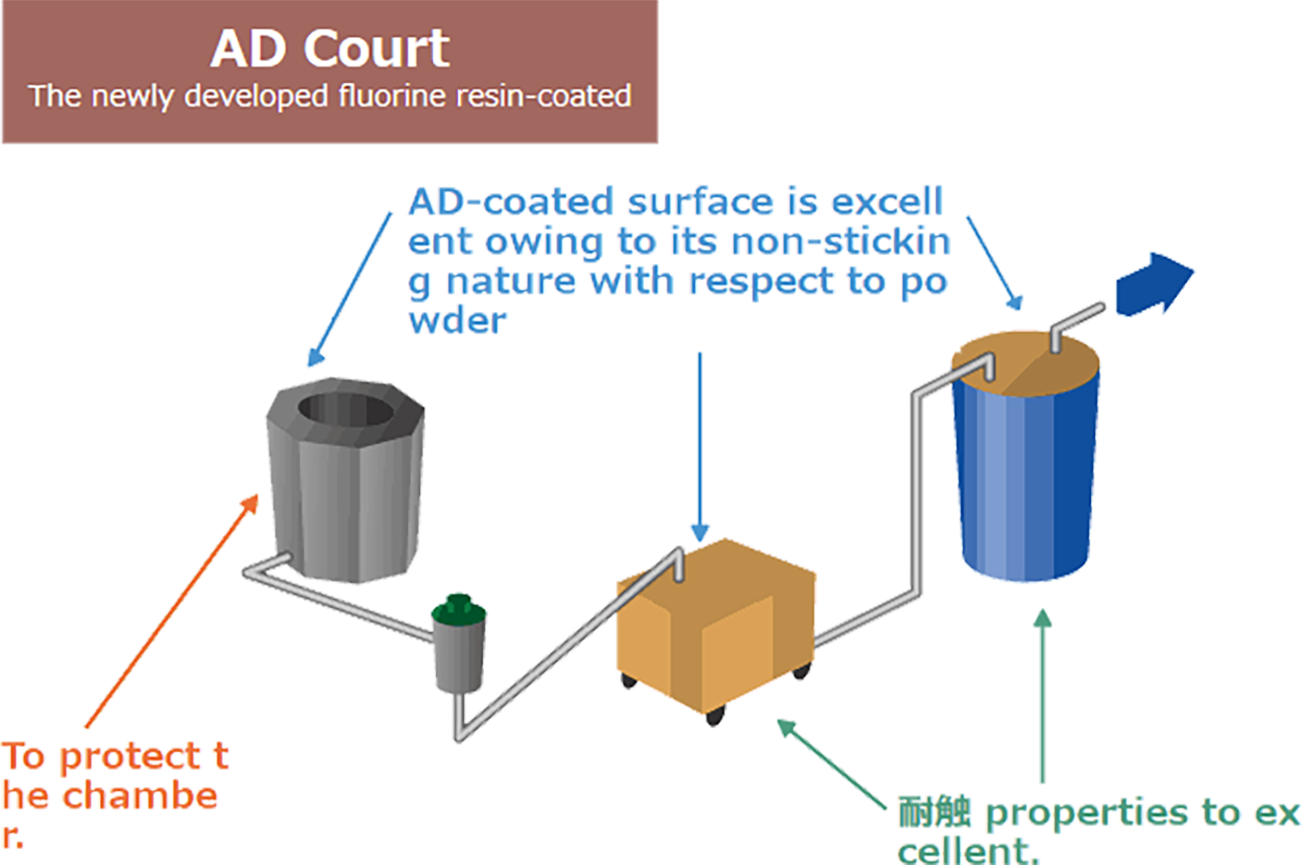 Three features of the AD coat
AD coat has one characteristic of 3, in addition to the characteristics of general fluororesin coat.
1.

Newly developed "low outgas resin"

2.

Excellent corrosion and plasma resistances

3.

Coating techniques to accommodate tubing of various shapes
Strict quality management system to support the AD Court
Many semiconductor manufacturing equipment makers have earned high trust from our company for many years, which we have cultivated in the manufacture of vacuum parts, and commitment to quality.
Fiber laser welding
We realize welding which was impossible so far!
Continuous irradiation by continuous (CW) oscillation

Weld beat is smooth
Weld beat width is narrow
Seamless welding
Weld beat
Smooth
Weld beat
The narrow width
seamless
Welding
Merit
1.

Low welding distortion

2.

Melting penetration

3.

Microfabrication possible

4.

High throughput / high reproducibility / general environment

5.

Allows welding of a wide range of materials

About products,
please feel free to contact us.
COPYRIGHT (c) ADVANTEC. ALL RIGHTS RESERVED.